The flooring we choose has become an integral part of the decor of our homes.
A huge choice is available – from wool or synthetic carpets and rugs through to solid or engineered wood floors, an array of laminates, ceramic to natural stone tiles.
And then there is the spectacular choice of plastic flooring now available too, not to mention glass, rubber, cork, even leather.
Some households easily have up to three or more of the above – all with their own cleaning requirements. Regular cleaning will help maintain the quality and look of all flooring – and we hope this guide to flooring types and their correct care will help make a contribution to keeping your home clean and beautiful.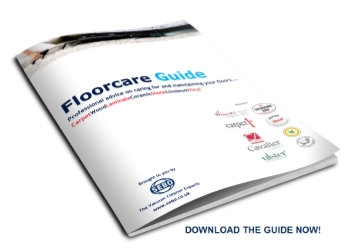 There are a number of steps you can take to protect and prolong your floors which are applicable to any flooring types:
Check with the flooring supplier or manufacturer as to the recommended care.
Use entrance mats to prevent damaging dirt from entering the home.
Vacuum regularly to remove dust and grit.
Clean spots and spills immediately before they can stain.
Do not use outdoor shoes indoors. Use indoor footwear such as slippers.
Place rugs in heavy use areas to protect the floor.
Clean a test patch first. If you are unsure, take professional cleaning advice.