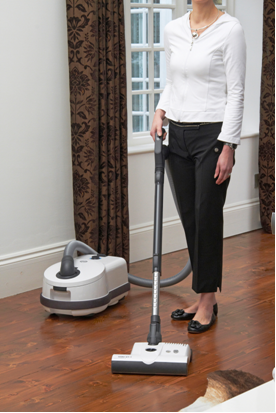 The dazzling white D4 Premium is one of four vacuum cleaners from SEBO's latest collection. Extremely eye-catching and ideal for whizzing around furniture, the new addition will keep your floors and carpets spotless.
Not only does the D4 Premium have an iconic design; it also delivers a high-quality performance. The vacuum cleaner's ultra-efficient filter technology means it delivers an unbeatable cleaning performance. Lightweight at only 6.7kg, the ergonomic body is designed to easily navigate obstacles whilst the patented AIRBELT bumper system absorbs impacts and protects your furniture.
Clever features such as a cone-shaped hose improves suction and prevents blockages, while the machine has space for a convenient and hygenic extra-large, six-litre bag. What's more, the automatically rewindable 12m power cable, together with the hose and telescopic tube, provide an impressive 15.5m cleaning range, ideal for awkward corners and stairs.
The D4 Premium's power head boasts an electronic guidance system which indicates the correct height setting for optimum cleaning performance. The brush can also be manually switched off, if needed, making it suitable for delicate floorcoverings. The machine also comes with the SEBO Vario KOMBI which is a multi-purpose combination head suitable for hard flooring and carpet, especially wool-loop.
The D4 Premium also has a power control on the hose handle and a slick LED light to indicate the suction level, so you can easily change the settings for wooden floor, carpet, upholstery, rugs and curtains.
The D4 Premium is available from a variety of independent retailers nationwide and costs £379.96.
All SEBO domestic vacuum cleaners come with a five-year parts and labour guarantee. To view SEBO's full range of upright and cylinder vacuum cleaners, please call 01494 465533.