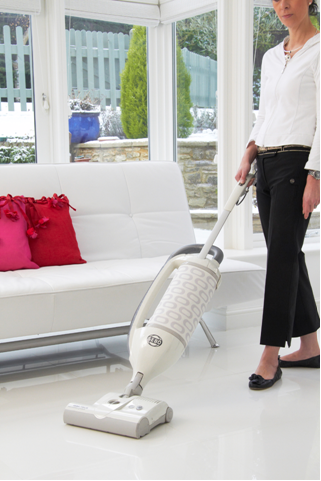 Almost 100% of the dirt in the average home comes from outside, 80% of which comes in on people's clothes or shoes*. Eliminating dirt in the home is easy with SEBO's Felix Vogue vacuum cleaner.
The Felix Vogue makes cleaning a breeze, not only does it boast designer good looks, with its sleek body and on-trend geometric-print design, but this stylish upright is light super-effective and easy-to-use.
It has an ergonomic handle grip for comfortable use and portability and a flexible neck which can be steered effortlessly around furniture and under rugs. Its L-shaped head reaches right up to skirting boards and slides under radiators to ensure every inch of your floor is left perfectly clean. What's more, its body can be flattened to glide under furniture, which makes cleaning under items, such as your sofa or bed, simple!
The Felix Vogue comes with an adjustable telescopic handle, integrated hose and extra-long upholstery and crevice nozzle. This makes it easy to vacuum awkward corners, such as behind the sofa, as well as hard-to-reach areas, such as curtain pelmets and stairs.
Ideal for both hard floor and carpet, Felix Vogue's variable suction control is easily adjustable to suit your task – choose from 300 watts which is great for vacuuming delicate items with the hose, to 1300 watts which is perfect for optimum pick up. It has a brush-height control too which lets you choose between gentle or deep brushing.
Convenient and hygienic, the Felix Vogue has an S-class filtration system and a sealable multi-layer bag to ensure no dust escapes, making it a clever buy for allergy sufferers.
The SEBO Felix costs £230 and is available from John Lewis and other good independent retailers.
All SEBO domestic vacuum cleaners come with a five-year parts and labour guarantee. For further information, please call 01494 465 533.
*Source – www.funnyfact.com.